Everything You Needed To Know About Purple Shampoo For Blonde Hair
Originally Posted on Redken 
All blondes know that finding that perfect blonde shade takes time, money, and a commitment to keeping the color as fresh as when you left the salon. While it's up to your professional stylist to provide a blonde toning service at the salon, you should still be committing to maintaining your haircolor at home. That's where the beauty of purple shampoo comes in.
Purple shampoo is an absolute necessity for blondes to use in between hair coloring sessions as it easily helps keeps your blonde beautiful.
WHAT IS PURPLE SHAMPOO?
Purple shampoo is just that—a shampoo with purple pigments that helps to keep undertones at bay. Think of it as your at-home toner that helps to beat brass.
The concept of purple shampoo might sound a little crazy to the blonde newbies, but ask any tried and true blonde and they'll tell you it's a must-have for keeping hair looking strong and bright.
WHY IS PURPLE SHAMPOO NECESSARY FOR BLONDE HAIR?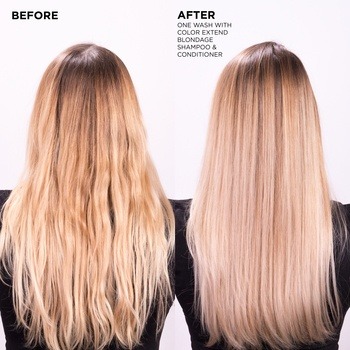 Those of us with blonde hair need purple shampoo because of how the hair is lightened in the first place. According to Redken Artist Adina Doss "When I lift a client's hair (colorist speak for lightening), there is an undertone that comes up, which I like to call 'raw blonde.' To get my clients to a richer, more quality blonde, I add a color treatment called a toner, specifically Redken's Shades EQ, to eliminate any undesired undertones, whether that color is yellow or yellow-orange or even a reddish undertone."
Those undertones can come out when the colorist applies a toner, but you may find they start to appear between color services as the toner fades. Insert the need for a purple shampoo to adjust tone at home!
Redken Artist Jaclyn Harwood says that these undertones can also be caused by things like sun, hard water or heat styling. For this reason, purple shampoo is not just for color-treated blondes. Natural blondes need it, too, Harwood says. In fact, those who've been jumping on the unicorn hair trend of purples and blue in their hair can also benefit from purple shampoo to help keep violet hues from fading.
Salon Tip: When a colorist lightens your hair, he or she should always use a toner as a step in the coloring process. Doss says this is a non-negotiable—so don't be afraid to ask for it during your next service!
BUT, WHY IS PURPLE SHAMPOO PURPLE?
"If you think of a color wheel, as basic as it sounds, whatever color you want to cancel out is directly across from it," Doss says. "Directly across from yellow is purple. So, the purple helps eliminate the unwanted yellow colors from the hair."
"It's almost like a way to brighten the color to a cooler tone," Harwood says. "So, if the hair has a little bit of a yellow tone, a pigmented purple shampoo is going to neutralize that warmth."
HOW OFTEN SHOULD I USE PURPLE SHAMPOO?
Keep in mind that purple shampoo does not replace your regular shampoo and should only be used once or twice a week. Doss warns that there is such a thing as too much purple.
"When you eliminate too much yellow, it visually ends up darker and a lot of people don't want it to look darker," she says. "So if you wash your hair twice a week, use the purple shampoo only once a week to keep the hair bright but not yellow."
Harwood also adds that purple shampoo can be mixed with regular shampoo to add some of the violet pigment into a regular hair cleansing routine without any risk of going overboard.
Redken's Color Extend Blondage, is formulated with a Triple Acid Protein complex—amino, citric and maleic acids and wheat protein—that neutralizes unwanted undertones and helps strengthen hair's cuticles while battling brass and keeping blondes bright.
Don't forget that maintaining your shiniest haircolor doesn't end with shampoo! Use a vinegar rinse for hair as a weekly treatment to keep your blonde looking it's most vibrant